After two years of planning, Cynthia Newlin O'Connor's career as an activist hit the peak. She stood in Times Square and watched a ton of ivory that had been smuggled into the U.S. go through a crusher.
These ivory crushes, as they're called, are held to demonstrate to a world audience, including poachers and smugglers, that there will be no profit in killing elephants for their tusks.
O'Connor is the executive director of Elephants Matter, a nonprofit concerned with stopping the slaughter of elephants for the ivory trade. It's pretty much a thankless task, but O'Connor is not the shy, retiring type. Like many who believe in a cause, she is a passionate crusader. Although elephants are her first priority, she will fight for any underdog with a tenacity that the rest of us just don't possess, including her own family members.
A week after her daughter graduated from college, O'Connor suggested, "Let's go to California and clean up those sea birds that were caught in the oil spill at Santa Barbara."
Her daughter replied, "You had me until you mentioned cleaning the sea birds, mom."
O'Connor is quick-talking and petite but not demure – "I try to use Cynthia, not Cindy, but I can't pull it off." She gave herself about two weeks to recoup from the crush before starting her current venture. She's gathering signatures on a petition to Pope Francis that asks him to join the elephant crusade and to sponsor his own crush of Vatican ivory.
I'm writing about O'Connor because she demonstrates the passion that all single-minded people have in some supply. Sure, she has more than the rest of us, but writers and entrepreneurs get excited about things, too. That's why they take off on quests to start their own businesses or are certain in their belief that they can persuade others with a unique collection of words and sentences. It seems a little nutty to everyone else, but most of us with the calling feel we have little choice: We must pursue our belief in ourselves and our abilities.
Sometimes it works out. O'Connor became an elephant crusader as a youngster. She was a child model doing a photo shoot at a zoo near Chicago. The young elephant was aggressive and sent her flying with a swat of its trunk. O'Connor asked her mother why the elephant would do that and mom replied, "He's surely not a happy baby. He should be with his mother back in Africa where he belongs!"
As O'Connor says, "I was imprinted."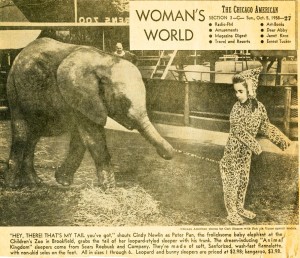 She traveled to Africa in 1988 and visited the David Sheldrick Wildlife Trust orphanage in Nairobi. "On that day I promised myself and the elephants that I would do whatever it took to save them."
O'Connor has worked as a photographer and in sales for radio. She created Elephants Matter and in 2013 became a full-time crusader, testifying in January 2014 before the New York State Assembly in support of a bill condemning the illegal trade in ivory. The bill was signed into law on Aug. 12, which is World Elephant Day. At the hearing, O'Connor committed to the creation of an ivory crush in Manhattan. She campaigned, researched, and enlisted the support of state Sen. Brad Hoylman, whose district includes Times Square, and the crush happened on June 19.
Now she is circulating her petition.
"I strongly believe that when the Pope speaks out about this issue it will be the final word needed," O'Connor says. "The world embraces him, and he embraces the world. Above any political agenda, financial gain or personal aggrandizement, when the pope speaks, the world listens."
Whether the pope and the world do listen, you can count on one thing. O'Connor is not going to stop.
Paul Steinmetz is the director of Community Relations & Public Affairs at Western Connecticut State University and the principal of Writing Associates, providing writing services to businesses and organizations.