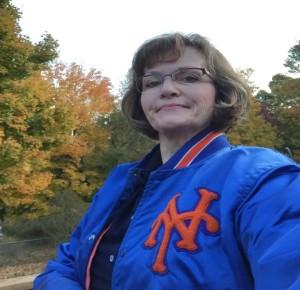 I happen to be a fan of the San Francisco Giants, who happen to have won three of the last five World Series. But since my team is not in the playoffs this year, and I live in Metsland, I'm rooting for the New Yorkers. I'm generous that way.
Also, I hate the Royals because they were in the World Series against the Giants last year. Although the Giants beat them, I have residual feelings. (I like the Royals better than the Toronto Blue Jays, however. My position is that Canadians shouldn't play baseball.)
Aside from giving me room to voice superstitions and thoughts that in other circumstances might sound unbalanced, I appreciate baseball because it can be so surprising over the long season. In the course of those 162 games from April to October, no-names throw no hitters, rookies hit three home runs in a single game and sometimes a superstar carries a team on his back, as he's paid to do. And every once in awhile, if they work hard and keep themselves from getting too discouraged during the many down times, good guys get rewarded.
Here are two:
Mike Jirschele, the Royals' third-base coach, has been second-guessed every day for a year. In Game 7 of last year's World Series, he chose not to send home a player representing the tying run. He made the right decision, but the runner never scored. This year, in the final Royals' playoff game against the Blue Jays, Jirschele sent the runner on a close play and he did score, sending the team to the World Series for the second year in a row.
This is what I like: Jirschele spent 13 years playing in the minor leagues and another 22 coaching there before getting to the major leagues last season. As a New York Times reporter observed, "Jirschele understood the value of patience, of biding your time."
From the Mets we have Daniel Murphy, a lifetime .290 hitter, which isn't bad, but he hardly ever hits a home run. This year he had 13 for the season. I like to think I could hit 13 home runs over a season. (I couldn't. I cry during Wiffle ball games if the pitcher throws at my head.) But during the playoffs, Murphy has hit seven home runs and he was named the Most Valuable Player for the National League Championship Series. It has been one of the greatest post-season performances ever.
"I wish I could explain it," Murphy told the Times. "I would have done it, like, six years ago."
That is baseball. It takes awhile to figure things out. When you do, you might be rewarded. It reminds me of what the rest of us do in life: work hard and plod ahead one step at a time. Sometimes things work out.
One day, it might even happen for the Cubs. Not that I'm rooting for them.